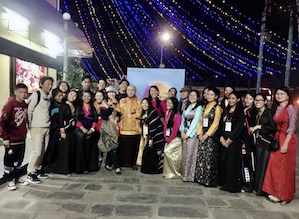 Deeply honoured that the Vice President of Nepal came as guest of honour to a special preview screening of Children of the Snow Land, accompanied by special guests the ex-Prime Minister and ex-Foreign Minister and Mayor.  The event was hosted by Miss Nepal.  Proceeds from this special screening go direct to help the Himalayan children living and studying at Snowland School, who are separated from their parents from age 4 to age 16 so that they can get an education.
Posted 2nd Nov in news
---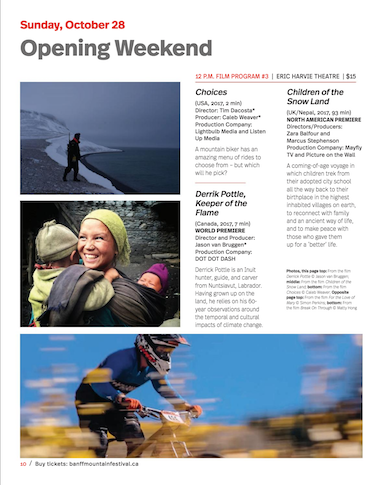 We're delighted to be screening as part of Banff Mountain Film and Book Festival. 
Posted 28th Oct in news
---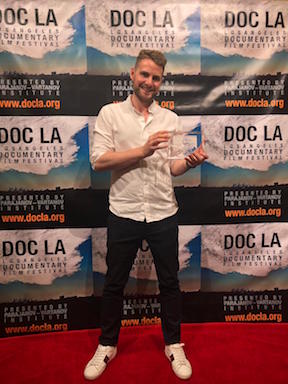 We've won the BEST INTERNATIONAL DOCUMENTARY Award at DOC LA Film Festival in Los Angeles.  We're very thankful to the festival and delighted to win this wonderful award.  One of our editors, David Potter, was there to collect the Award.
Posted 21st Oct in news
---
Children of the Snow Land has been awarded the Best Feature Documentary Award at London's I Will Tell Film Festival.  The competition was very strong, so we're really honoured.  Huge thanks to the organisers and Jury.  Marcus, one of the film's directors, had a special night collecting the Award.
Posted 11th Sep in awards
---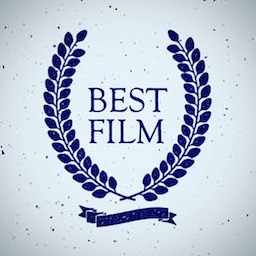 Children of the Snow Land has won the Best Film Award at the Swiss Mountain Film Festival!  The award ceremony was held in the beautiful alpine town of Pontresina.  We're delighted that audiences in Switzerland liked the film and are enjoying the unity of mountain cultures on opposite sides of the world!
Posted 11th Aug in awards
---
Children of the Snow Land has won two awards at the Valletta Film Festival!  We won the Teen Choice Award for being the best film in our section of the Competition, and the main Audience Award - the audience's favourite film of the entire festival! We're delighted and thankful to everyone who helped to make the film and to everyone who voted for us at Valletta Film Festival.
It was a wonderful film festival, which we felt stood alongside Berlin and Sheffield in terms of film quality and festival buzz. The festival turned the beautiful ancient city of Valletta - 2018 European City of Culture - into a cinema. One of Children of the Snow Land's directors, Zara Balfour, was there on the jury of the feature film competition.
Posted 19th Jun in awards
---
Our film soundtrack album, composed by Chris Roe, is now available to buy from iTunes and to stream on Spotify
13 tracks of relaxing, original musical, evoking the journey of our brave children across the Nepalese highlands.
Have a listen to add some relaxation to your day...
Posted 7th Jun in news
---
For the third consecutive year, Valletta Film Festival will be presenting Teens Only, a selection of coming-of-age films aimed at young audiences, particularly teens from 14 to 19 year olds.
We are very pleased to be a part of this great film festival, and look forward to hearing the discussions between filmmakers and young audiences on subjects of interest to young people that the Teens Only section is all about.
There are three screenings scheduled during the festival, head over to our screenings page to find out more.
Posted 5th Jun in awards
---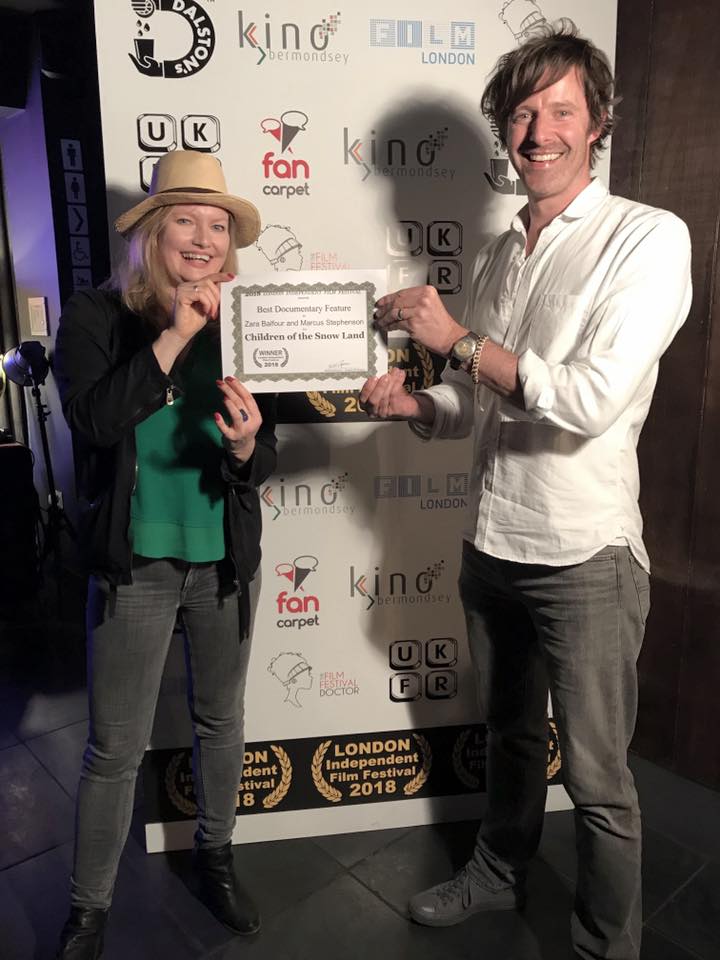 We just won Best Documentary Feature Award at London Independent Film Festival Thanks and well done to Snowland School and to all of our team. Accepting the award on behalf of us all! Yippee!
Posted 24th Apr in awards
---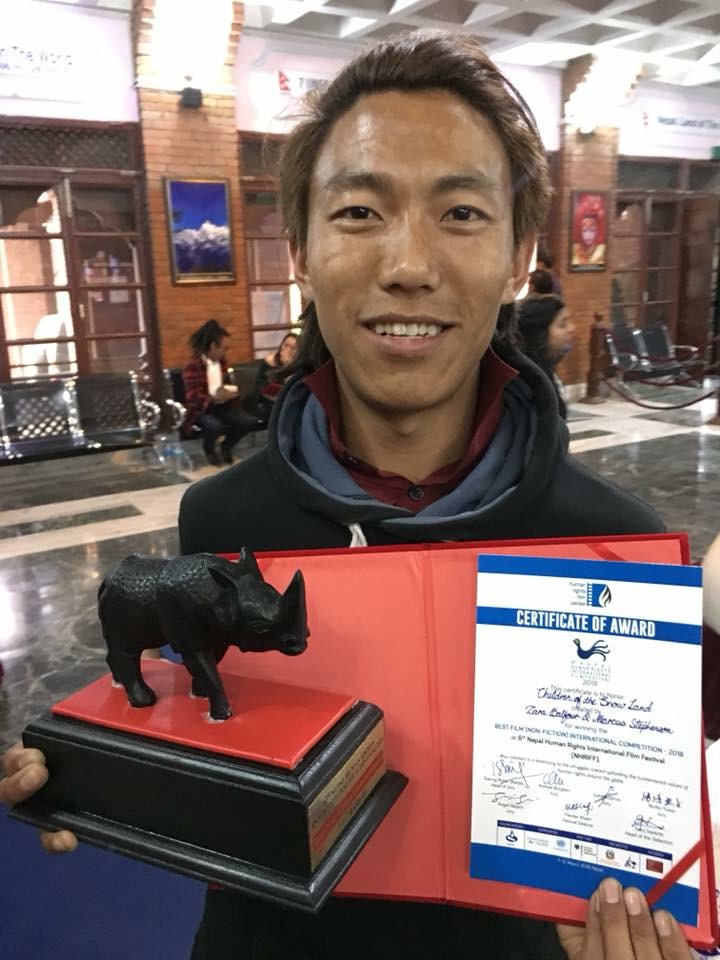 Children of the Snow Land has won the award for "Best International Non Fiction Film" at the Nepal Human Rights International Film Festival in Kathmandu, Nepal.
Here's a photo of our star Nima with the trophy and certificate. We're all so thrilled for Nima and the rest of the team
Posted 10th Mar in awards
---
We want to get Children of the Snow Land seen in every town and city in the country – not just in cinemas, but in community halls, church halls and at the meetings of campaigning groups. Would you like to host a screening? Read more on the screenings page or email us for details.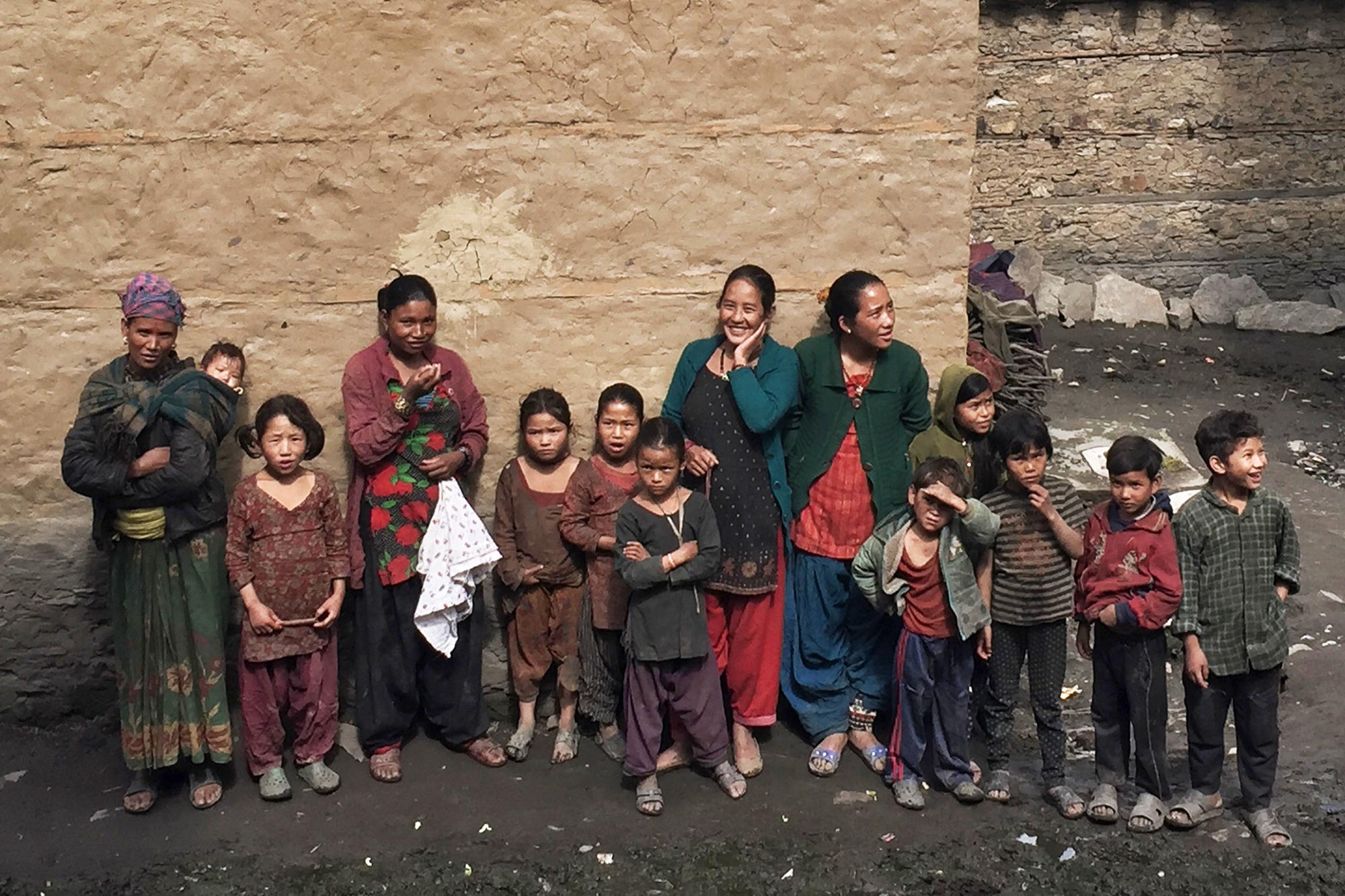 Posted 3rd Mar in screenings
---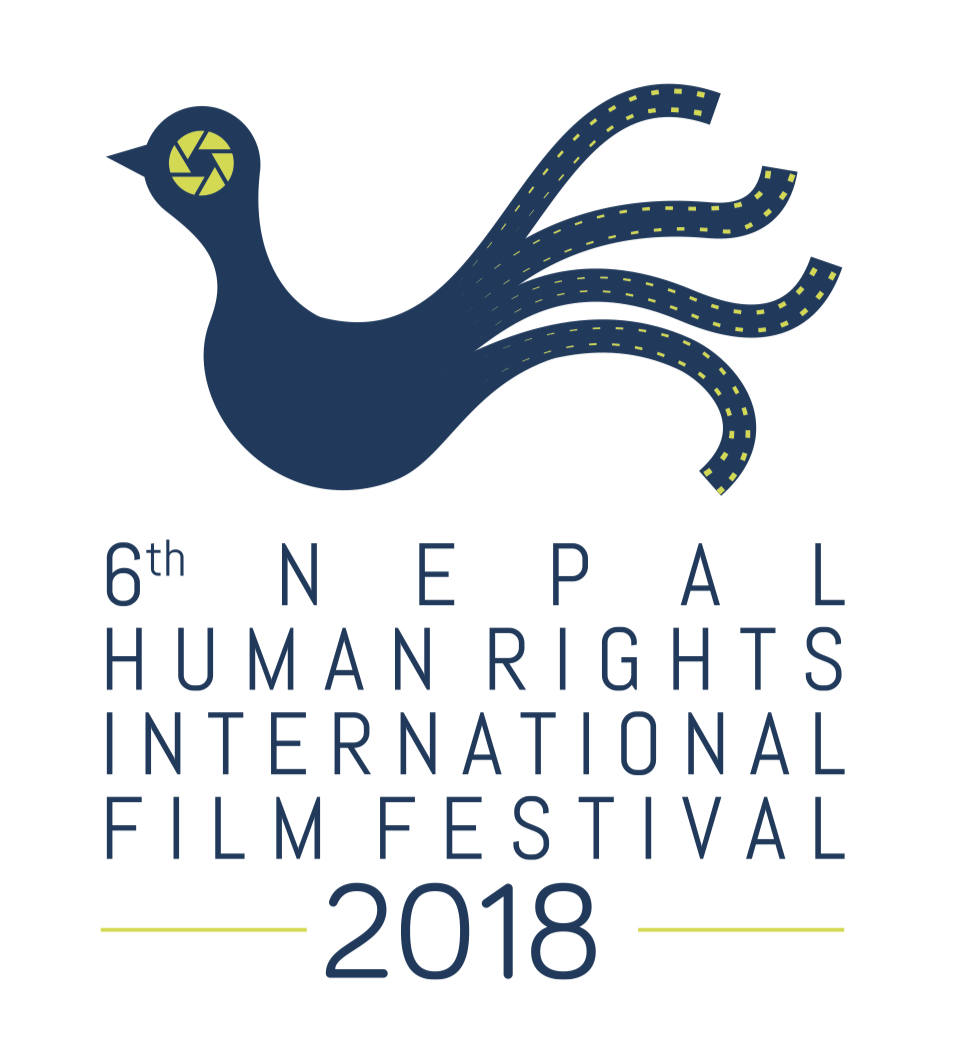 Children of the Snow Land has been selected for the Nepal Human Rights International Film Festival. The screening is on Friday 9 March, 1pm, at Nepal Tourism Board Hall, Bhrikutimandap, Kathmandu.
Posted 1st Mar in screenings
---

Children of the Snow Land screens at Pokhara International Mountain Film Festival today.
Posted 22nd Dec in screenings
---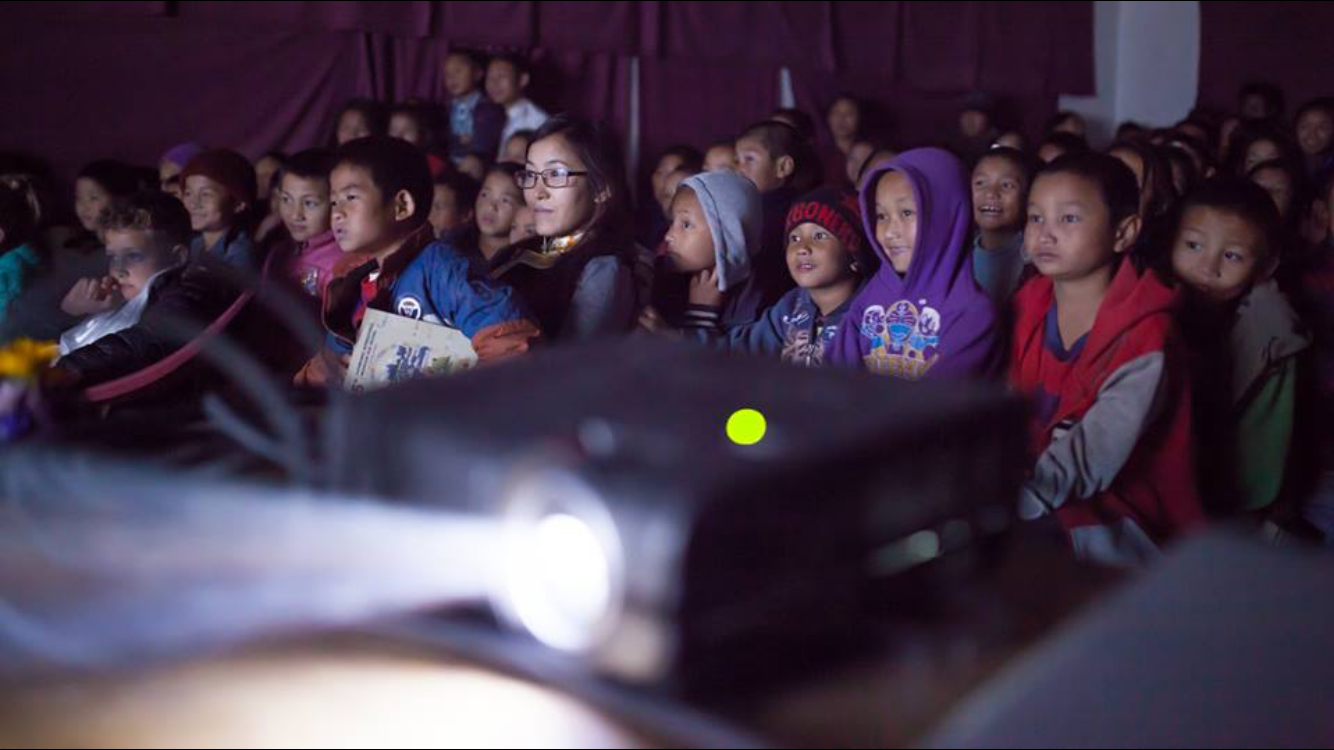 We've just shown the film to the students of Snowland School. After the film, several of the little children came to us and said they had been feeling that their parents sent them away because they don't love them, but now having seen our film they realised their parents do love them.
So heartwarming to know we can help relieve this pain from all the young childen educated away from home.
Please consider donating to our Going Home Campaign, a partnership with Future Village Foundation, to fund children from the Snowland School to go home and see their families. It costs $2,000 per child for this journey (this covers travel costs, guide, porters, food, suitable clothing, shoes, bedding and tents for the cold walk home across mountains). Every little towards this helps.
Posted 17th Dec in screenings
---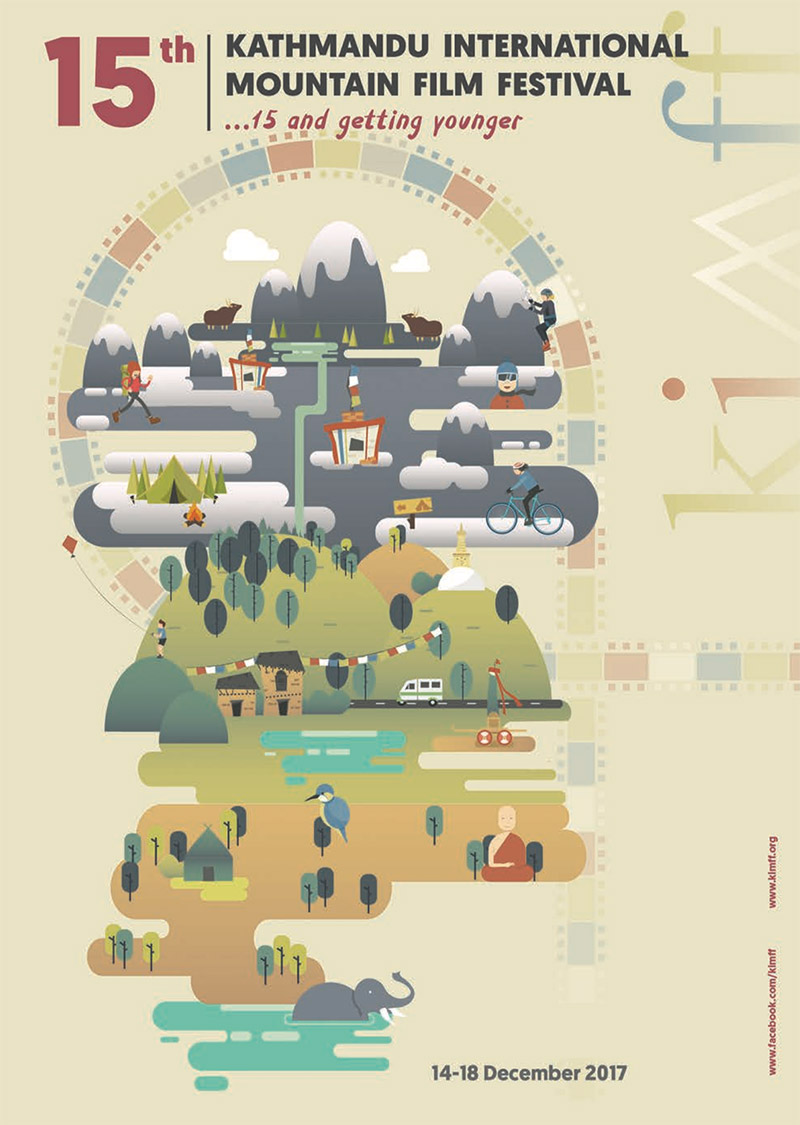 Very excited as today is our World Premiere at the Kathmandu International Mountain Film Festival in Nepal - our country of production!
Posted 16th Dec in screenings
---